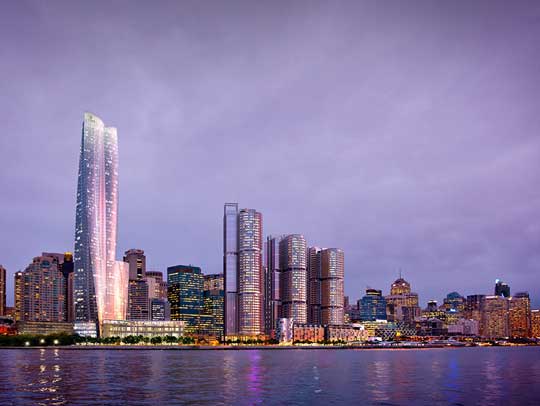 Australian casino developer Crown Resorts is gearing up to face yet another challenge to its planned waterfront luxury casino resort at Barangaroo, New South Wales.
This week, the state's Land and Environment Court will be hearing the case brought against the company by the Millers Point Fund Inc, a citizens group representing those living in nearby Millers Point.
This area once had social housing but has since given way to more affluent residential housing who will now have to live under the shadow of the massive 271-metre tower that Crown plans to build. The NSW Environmental Defenders Office is fighting the case against the casino operator, the land developer Lendlease, the local government, as well as the deciding authority for the project, the Planning Assessment Commission.
7NEWS
According to the suit, the commission has made an erroneous judgement that makes the planning approval invalid. In a statement Sue Higginson, the chief executive at the Environmental Defenders Office, said,
What the Planning Assessment Commission did was say: 'Sorry, parliament has already decided where this casino should go.' But nowhere in the planning legislation does it say it's subject to the Casino Control Act.
According John McInerney spokesman for Millers Point Fund and also a former City of Sydney councillor, the tower being built by Crown Resorts should be built towards Hickson Road and the area allotted for the tower should be reassigned for a foreshore park. If the case is successful in court, it can cause delays for the project and even a possible relocation.
The location of Crown's proposed casino resort has been controversial since the beginning. The independent Planning Assessment Commission which had been put in charge of the approval for the project refused to accept pleas to move the tower away from the foreshore stating that the NSW government had effectively approved the tower to be built on the foreshore by virtue of clearing the bill for having a restricted gaming facility on the harbour in 2013.
Crown Resorts has promised to battle it out in court as the Barangaroo project has been one of the most important projects for James Packer, the majority stakeholder in Crown Resorts. This latest challenge to the project comes even as the company is fighting the arrests of its employees made by the Chinese authorities in October over allegations of violating gambling laws in China.