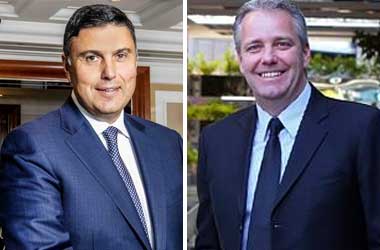 Crown Resorts keeps on resembling a sinking ship, judging by yet another round of executives exiting the company.
Sydney CEO and head of hotels, Peter Crinis, has reportedly left the company's top ranks.
Coming from Melbourne, Crinis is one of Crown's oldest employees, and he is now one of the many who have left or are preparing to leave the probe-stricken Crown Resorts.
However, it's interesting that he is one of the few who have decided to leave the company preventively.
Many have instead been pushed or urged to leave, like Ken Barton, Crown's CEO who resigned back in February, and Barry Felstead, Crown's CEO of Australian resorts, who left in late 2020.
Bloomberg Markets and Finance
Crinis informed the staff of his exit on Monday, but it seems that he had already made some contingency plans before leaving the company. Although not confirmed, reports state that he will helm his newly-formed company Anchor Consulting Co, which he registered a month ago.
Despite the announcement, Crinis will remain in the CEO and head of hotels position until December, as his contract includes a six-month notice period. He is likely to be working remotely until he officially leaves.
Crinis is not the only one leaving the troubled company. News broke that Crown's executive vice president of strategy and development, Todd Nisbet, has also decided to go in a similar low-key manner.
Interestingly, there is no mention of Nisbet's exit in Crown's disclosures to the Australian Securities Exchange even though he has been one of the key personnel in the management sector.
Unlike Crinis, Nisbet has left earlier without any reports outside of the company.
What's more, he officially left even though his contract stipulates a 12-month notice period if he were to quit. Also, the contract included an annual $2.4 million compensation, proving unlikely that he would leave without fulfilling the requirements from the contract.
Due to the circumstances, this could suggest that Nisbet's leaving was orchestrated by the company, as there would only be a one-month notice in such a case.
Whatever the case may be, Nisbet is designated to get relocation benefits to his home city of Las Vegas, where he and his wife own a luxurious house outside of the city. They purchased the house in 2008 for US$3 million and have been renting it out for $10,000 a week.
Both Peter Crinis and Todd Nisbet have connections to Crown's Barangaroo site blocked by the authorities from opening a sprawling casino.
Crinis wasn't the only head of hotels for Crown, but also the chief at the One Barangaroo. At the same time, Nisbet had insights into Barangaroo while it was being developed from 2016 to 2020, as he's been overseeing all Crown's development projects since 2007.