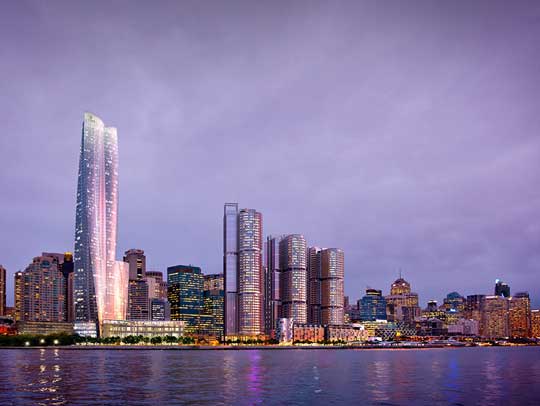 The New South Wales government recently approved Crown Resorts' $1.2 billion luxury casino project in Barangaroo after Crown agreed to key changes in its plan.
The project features a six-star hotel and an exclusive VIP casino located near the Sydney harbor.
The Department of Planning accepted many of the suggestions made by an independent panel led by government architect Peter Poulet and outlined a number of changes to Crown Resort's casino proposal. One of the key changes was reducing the size of the podium that supporting the 271-meter tower.
The expert panel suggested reducing the size of the podium to allow more public access to the harbor foreshore, but Crown Resorts objected strongly saying that the reduction would affect the size of the casino's gaming floor which it planned to utilize inside the podium which in turn would impact the scale and financial outcome of the project.
The government decided to make an amendment to the podium requirement and stated that Crown need not be required to reduce the size of the podium. It has suggested other changes such as a new recess or altered cladding to break the visual impact. The department has further said that the design of the Waterman's Cove located in the south of the Crown tower would be changed to a semi-circular one which would increase the area of the public promenade and improve access to the foreshore. The department also wanted Crown to cut down on its excessive signage.
Crown Resorts however agreed to most other changes required including one where the public will now be given access to the upper levels of the tower. A new observation area will be made available to visitors via guided tours. Since Crown complied with most of the changes, the state government was happy to recommend the proposal to the NSW Planning Assessment Commission for final approval.
The Crown Barangaroo project has been delayed considerably for a number of reasons and Crown Resorts are eager to gain full approval and proceed with construction. The commission is expected to hold a review of the amended proposal sometime in April.
In a statement, a spokesperson for Crown said,
The updated designs will help ensure Crown Sydney is embraced by the local community and visitors as one of the world's best hotels and architectural icons. The observation deck at the top of Crown Sydney will be an iconic experience for Sydneysiders and an additional tourism asset to attract interstate and international tourists.
However there continues to be protests over the Crown Barangaroo project as some factions believed that the government has allowed Crown to over-commercialize the Sydney harbor redevelopment project.