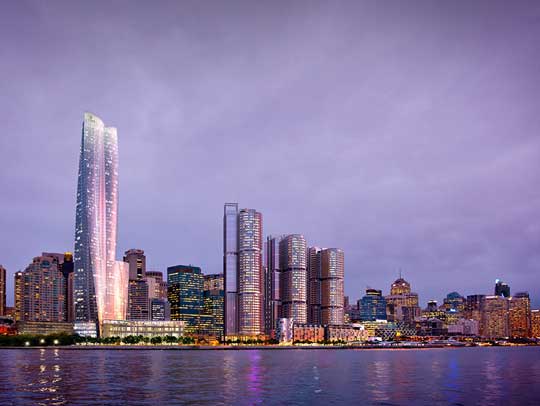 Crown Resorts has announced an additional delay to its $2 billion casino-hotel project in Barangaroo, Sydney due to issues with the planning process. Crown Resorts had received approval for its $2 billion luxury six-star hotel and VIP-only casino at Barangaroo back in November 2013.
The company has a $1 billion agreement with developer Lend Lease for building the casino in Sydney but has been unable to stick to its proposed schedule due to hurdles in the planning process. The billion dollar casino resort was originally scheduled to open in November 2019, but Crown Resorts announced in August 2015 that planning delays could push the schedule back by around 12 months. In December we reported James Packer expressing his frustrations at delays to building the Casino as a tribute to his late father.
This most recent announcement pushes the opening by an additional 12 to 18 months, once again due to issues with planning. This additional delay now means that James Packer's Barangaroo casino will most likely open to the public sometime in 2021.
In a statement, Rowen Craigie, Crown Resorts chief executive said
The planning process is complicated. We can't lodge our approval for Crown Sydney until (developer) Lend Lease lodges their approval to modify the master plan for Barangaroo South.
Craigie said that Crown will be making efforts to regain the lost time over project phases of remediation, construction or pre-opening. Regretting the delay, Craigie said that these postponements could also mean an increase in the project cost as construction costs increase with time but added that revenue projects would also rise in parallel.
The delay was announced as Crown Resorts declared its results for the half year ending December 31, which was impacted due to the weakening market in Macau. Crown operates three casino-resorts in Macau and one in Manila in a joint venture with Melco International Development Limited.
The group registered a growth of 1.6 percent in net profit for the period, reaching $205 million. But its net profit excluding one-off charges and win-rate variations against high rollers fell to $210.3 percent, a decline of 34.8 percent. Revenue from the three Macau ventures saw a sharp decline of 89 percent, dropping to $9.4 percent.
Craigie attributed the drastic fall to the decline of VIP revenue in Macau. He added that Macau was now changing its strategy to appeal to the masses, saying that the new Studio City casino-resort was geared towards the mass market. The company reiterated its optimism regarding the long-term prospects of Macau citing the growing Chinese middle class.
In Australia, the growth in revenues continued to be strong with a rise of 9.8 percent to $861 million. Craig said that the 3.8 percent drop in VIP segment revenue to $35.7 billion was acceptable in the context of the declining trend in VIP gambling across Asia and the unusual growth in the previous period.