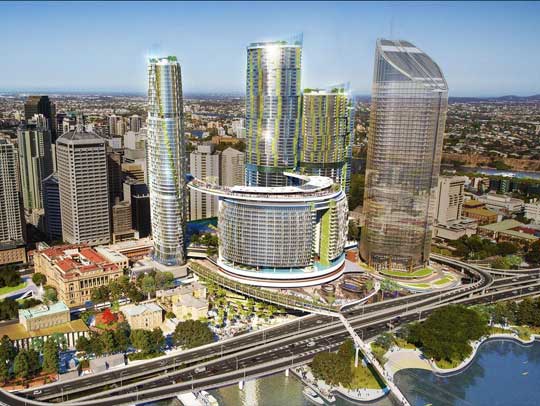 Queensland premier Annastacia Palaszczuk finally signed and approved proceedings for the mega Queen's Wharf casino to proceed. The $3 billion mega-casino resort had received a lot of opposition from certain groups within the state but in the end that government decided that it was in the best interests of the state to proceed with the project.
This mega-casino resort is expected to generate around $1 billion for the Queensland government although the major chunk of that revenue will be collected only after a 10 year period of operation. Queensland is expected to bring in around $880 million after the casino completes 10 years of operation but will receive its first installment of around $272 million this week. We reported in October that China would largely financing the casino build.
This special project which is termed as Destination Brisbane Consortium is being developed by Star Entertainment Group, formerly known as Echo Entertainment and its partners Hong Kong based Chow Tai Fook and Far East Consortium. John O'Neill, the chairman of Star Entertainment Group, Chris Hoong, Far Eastern Consortium and Conrad Cheng, Chow Tai Fook signed the agreement along with Queensland premier Ms Palaszczuk and Mr O'Neill.
Apart from generating significant revenue for the government, the new Queen's Wharf project will also create a number of employment opportunities for the state and boost its economy. The new mega-casino is expected to create 2,000 construction jobs and another 8,000 jobs once it goes live. The project will establish a link across south bank and the Brisbane river, 5 new hotels including a casino and integrated resort, a new live theatre and generate around $1.69 million in revenue from the tourists that visit the city due to the project.
This attractive proposition convinced the government to allot a number of privileges to the developers including giving them a license to operate for the next 99 years, a max allotment of 2,500 pokies, an unlimited number of gaming tables and electronic gaming tables and a deal that states no casino will be allowed to operate within 60 kilometres of Brisbane's central business district during the next 25 years.
In a statement, Anthony Lynham, State Development Minister said
We have $5 million today, we have $272 million by 2022 [when the complex opens] and in 2032 we have the remaining $880 million. It's still a billion dollars. A valuable $1 billion to pay down state debt and boost our budget's bottom line.