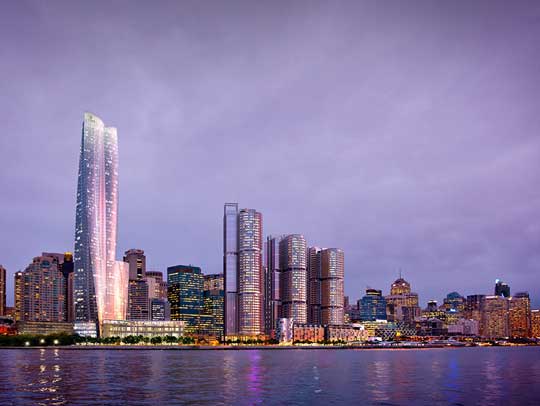 Australian casino developer Crown Resorts has won a legal battle that was challenging the validity of the approval granted to its casino project at Barangaroo in Sydney. The A$2 billion casino project now has the approval to move forward after facing a number of different hurdles.
Initiated by the residents of the neighbouring enclave Millers Point, the legal suit claimed that the approval granted by the NSW Planning Assessment Commission (PAC) was invalid as it was based by an incorrect interpretation of the gaming law.
Justice Robson of the Land and Environment Court of NSW however dismissed the case last week, stating that there was insufficient evidence to show that the Commission had committed any jurisdictional error.
7NEWS
Millers Point Fund Incorporated, the citizens group that the led the suit had argued that the PAC had incorrectly depended on the Casino Control Act's amendment that allowed a casino to be developed in Barangaroo to grant approval for the project. According to the group, the decision should have been made on basis of planning law and not casino law.
The legal victory is likely to be welcome relief Crown Resorts stakeholders as the company has had a rough year in the second half of 2016. The company has had to contend with employee arrests by Chinese authorities, a sharp decline in VIP gaming across casinos and a strategy rejig resulting in a pull back from international projects.
In a statement Crown Resorts said,
Crown is pleased with the decision and looks forward to continue building an iconic, six-star hotel resort of which Sydney and Australia can be proud. It is expected that Crown Sydney will be completed in 2021.
With this positive decision, Crown will be able to commence construction for the Barangaroo project. The 71-storey VIP casino hotel development targeting Asian high rollers was initially intended for a 2019 opening but the schedule has been delayed due to several reasons including legal challenges and subsequent design changes. According to the company, the launch of the complex is now estimated to be in 2021.
The casino facility will be Crown Resort's first in Sydney where rival the Star Entertainment Group has had a monopoly until now.
The judge has so far not ordered the citizens group to bear the legal costs for successful Crown Resorts defence as is the norm, stating that the association was acting as a community action group. The judge has however asked for alternate cost orders so it is still unclear if Millers Point Fund Incorporated will be asked to pay the costs.