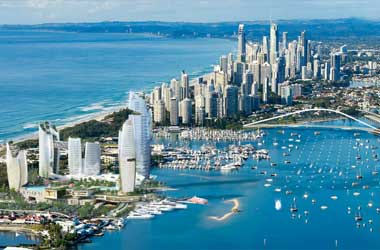 The design plans for a casino proposed to be developed on Gold Coast's Southport Spit in Queensland, Australia was released by its developer ASF Consortia earlier this week.
The Chinese-backed consortium is proposing to build three hotels, a large scale casino as well as housing complexes on the sea-facing government-owned land.
A previous plan to have a terminal for cruise ships has however been dropped by the company.
ASF director Louis Chien said that the project will see an investment of $3 billion into Gold Coast, creating over 10,000 jobs and attracting an additional 1.5 million tourists per year. In a statement, Louis Chien said
This $3 billion project will deliver a world-class waterfront destination that provides an immediate and ongoing economic boost and significant jobs for the Gold Coast, with benefits flowing across Queensland
Although the project is yet to receive approval from the state cabinet, State Development Minister Anthony Lynham expressed his support saying that the project would revitalize the area. He pointed out that the beaches and green spaces available in Southport Spit were ideal for families but the entire area needed a makeover with new facilities to draw them. Dr Lynham additionally announced that northern portions of the Spit would be remain protected in perpetuity by the government, allowing ASF 's project to proceed as planned.
Opposition planning spokesman Ian Walker however criticized the ruling government's approach to reviving the area, stating that a master plan for The Spit needs to be put in place. He further alleged that the government had scrapped the earlier government's plans for the Spit without an alternative and had handed over land for ASF's project without a competitive bidding process.
According to the proposal by ASF, the proposed complex will have several hotels including a three-star hotel and luxury five and six-star hotels, an amphitheatre seating 1200 as well as other facilities like restaurants and retail shops. Pedestrian walkways and boat moorings are proposed along the waterfront. A new bridge connecting the Spit is also planned to improve traffic flow.
Dr Lynham highlighted that there were many opportunities for companies already operating on the Spit to contribute to the protection and growth of the area. The casino is reportedly in talks with James Packer's Crown Resorts for operation of the casino facilities. The Queensland government recently approved a proposal to expand Jupiter's Gold, a casino owned by Crown's rival Star Entertainment Group located at Broadbeach.