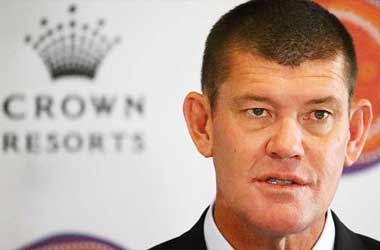 James Packer, the Australian casino tycoon has cashed in debt notes worth A$100 million that he was holding in his company Crown Resorts. Packer reportedly sold a million subordinated notes for A$101.58 each last week to Crown Resorts, which yielded him A$101 million.
Crown and the corporate entity of the Packer family Consolidated Press Holdings made the declaration to the Australian Stock Exchange late last week.
Crown has been issuing the notes bearing a face value of A$100 since 2012 which indicates that Packer is likely to have netted A$1.5 million as interest on it. Additionally, Crown paid out a total of A$489 million to Packer. The payment was made with regards to the 30¢ dividend declared this year along with an additional 80¢ per share payment arising from the sale of its stake in the Macau-based joint venture Melco Crown Entertainment.
Packer received $488 million in August last year when he sold around 4.8 percent of his company, reducing his holding to below 50 percent. Crown Resorts continues to have a further $422 million pending in the form of subordinated notes. The company is planning to buy back as much of them as possible and is also planning to launch a share buyback scheme valued at $500 million, which if successful will represent a repurchase of nearly 6 percent of its total shares issued.
It is not certain if Packer owns any more of the notes or if he would be encashing them. The payouts by Crown are a part of its effort to slash its substantial debt, which was at A$1.76 billion in December 2016, a key focus under the company's reorganization plan. Crown initiated a massive overhaul plan few months ago which included stepping back from all its international ventures to focus on its Australian projects. An extensive management reshuffle was also carried out under it, which will see Packer return as a director on the Crown Board.
The revamp project was launched after Chinese authorities arrested 18 of Crown's employees for gambling crimes in October last year. Fourteen of them continue to remain under detention. The sudden arrests have impacted Crown Resort's VIP gaming in a significant manner.
The company's half-year result showed that its VIP gambling income, which is largely dependent on Chinese visitors, had declined by over 47 percent in Melbourne and by nearly 40 percent in Perth. The sharp revenue drop caused a 9.6 percent decline in profits for the 6 month period.