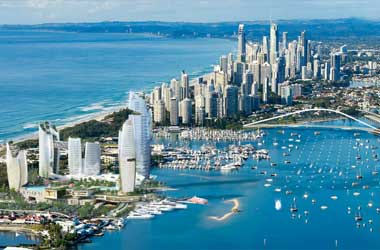 ASF Consortium, the Chinese developer who is responsible for constructing the Gold Coast Integrated Resort in the state of Queensland, Australia has released fresh design plans for the project.
Initial plans for the A$3-billion project which is awaiting approval from the state government was submitted earlier this month. The project is proposing five high-rise towers on the land between Sea World and Palazzo Versace on the Gold Coast. The company has now released updated plans with further details on the various features with regards to public open space, entertainment facilities and leisure activities has been revealed.
Information @ ASF Group Ltd
Some of the new attractions include public mooring and beachside parking options for those interested in travelling by boat, kayak or jet ski. Several family friendly activities will be available on the waterfront such as fishing on the piers, sub-tropical gardens and swimming.
Visitors will be able to enjoy numerous gaming and interactive entertainment options across the resorts along with boardwalks, rooftop terraces, skywalks and parks. Two distinctive features proposed are a 9,200m2 waterfront square and the Art on the Broadwater concept which will have artwork displayed innovatively on water. An open air amphitheatre will be available for live music performances and water displays. Regular amenities like dining facilities, shopping will be on offer.
Michael Rayner of Blight Rayner Architecture, the firm which is working on the project said the designs were aimed at reflecting Gold Coast's diversity and value. The height of the towers has been a key consideration point as it plays a role in creating a landmark for Queensland. Rayner said that the team was ensuring that the final tower heights take into account the views of the community. The current proposal is to create a tapered view along the coastline with towers having 45 storeys, then 20 storeys, finally 3 storeys.
The mega-resort on the Southport Spit was a surprise announcement after a previous plan to build a similar casino on Wave Break Island fell through. A Gold Coast town planner Ross Heatley has alleged that the city had been in danger of facing a $1.2 billion case after it pulled back from offering Wave Break Island as a venue.
According to some reports, the ASF group is in financial difficulties but given that one of the major consortium members is China State Construction Engineering Corporation, the danger of a cash crunch might not be there. The prospect of a Chinese state-owned company operating a casino on Australian soil has however raised concern in some quarters.