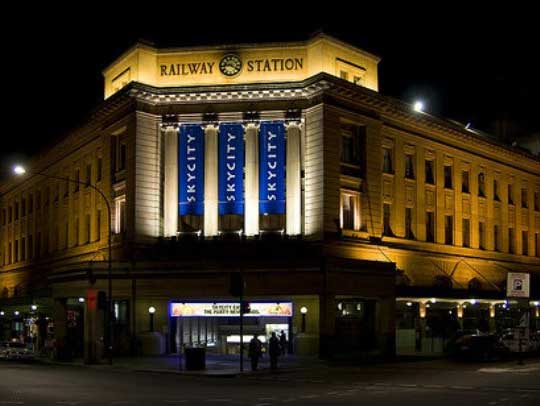 The SkyCity group had earlier submitted plans to roll out a $300 million makeover for its Adelaide casino that would include an 80 room hotel that overlooks the River Torrens, developing a number of signature restaurants and building VIP gaming suites that will attract high-rollers from Asia.
While most state governments welcome the investment and development of infrastructure projects in the community, the Adelaide casino proposal received special attention because the building is considered to be a heritage location and is linked with the Adelaide Railway Station.
However after much debate and review the Development Assessment Commission of South Australia decided to go ahead and approve the proposal even though there were concerns being raised over the damage the project might cause to the heritage building. SkyCity has decided to enlist the services of well-known developer, the Buchan Group to design its new facilities which also include a eleven story expansion that will take up land that is owned by the government and borders the Adelaide Festival Plaza which is also expected to be developed in the coming months.
9NewsAdel: 22 Jan 2016
The makeover will also include a $610 million investment that will cover an upgrade to its bars, cafes, restaurants, shops and 24 storey office building. There will also be upgrades carried out at the underground card park that can currently house a total of 1560 cars. The Adelaide casino has also reached an agreement to purchase the much sought after Riverbank land which will help the casino expand its facilities and add an additional 110 gaming tables and 500 pokie machines.
The approval to push past heritage concerns in order to develop the Adelaide casino has not gone down well with a number of groups. The State Heritage Unit (SHU) is concerned that the development worked carried out by the Adelaide casino could cause significant damage to both the Adelaide Railway Station and Adelaide Festival Centre buildings.
The SHU has put together a report which states that
The heritage advice is not supportive of the bulk and height of the new building. The SHU considers the proposal will adversely affect the setting of the Adelaide Railway Station and will significantly diminish the presence and setting of the Drama Centre.
The new design for the casino will give it a shiny golden appearance and has received support from the state's government architect. The new makeover is expected to create thousands of jobs, bring in more tourists and generate a lot more revenue for the state. The project development work is expected to commence by the middle of 2016.