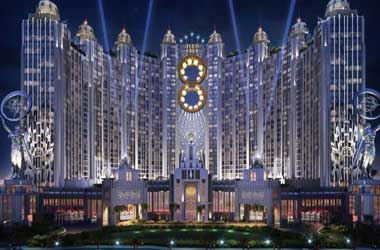 Billionaire and Chairman Steve Wynn lashed out at Macau's government last week for their gaming policies which he termed as mystical and criticized them for not being transparent and informing his company and others like the Melco Crown on how many gaming tables they were going to sanction for the new casinos that are expected to open before the end of this year.
Macau's government did not take Wynn's criticism well and released a statement saying that if a gambling establishment wants to operate in Macau they should be willing to abide by whatever the regulations laid out by the government. That being said, Macau's authorities have now informed Melco Crown that their new Studio City resort on the Cotai strip will be able to run a maximum of 250 gaming tables.
Melco Crown also confirmed that the Macau government has allocated 250 gaming tables to its new Studio City resort, which is scheduled to open next week. Macau's gaming regulators have approved a total of 1,233 gaming machines and 200 gaming tables to operate right from the start and the additional 50 gaming tables to start operations in Jan 2016.
Wynn's criticism appears to have had some kind of impact on Macau's gaming regulators as the chairman of Wynn Resorts pointed out the difficulties his company and Melco Crown faced due to a lack of transparency on the approval process of gaming tables. Wynn stated that by not knowing how many gambling tables would be permitted, gambling establishments had no idea how many staff they should hire and train and that severely restricted their operations.
Melco Crown was happy to gain approval for the 250 gaming tables and their CEO and co-chairman Lawrence Ho thanked Macau's government for the approval. In a statement, Ho said
We thank the Macau Government for its consideration of our application and approval of gaming tables and machines for Studio City. We are confident that Studio City's offering of cinematically-themed entertainment, retail, food & beverage and accommodation options will contribute meaningfully to the economic and employment diversification of Macau. We are excited to welcome Studio City's first patrons later this month.
Melco Crown has invested over $2 billion into building a mega-casino resort on the Cotai strip and has invited some of the biggest celebrities and poker players in the world to be a part of its launch next week.