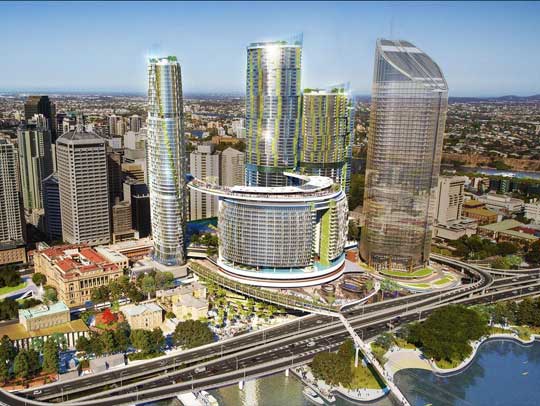 The Echo Entertainment Group and James Packer's Crown Resorts were in a fierce battle to secure the rights to construct a land based mega-casino resort in Brisbane, Queensland.
The competition to secure the rights to build an integrated gaming resort in the heart of Brisbane received a lot of publicity as each group went on record to outline what exactly they were willing to invest and provide to secure the deal.
In the end, the Queensland government decided to award the contract to Echo Entertainment who have proposed to invest $2 billion into the Queensland economy to construct this integrated gaming resort that is expected to be the most important development in Brisbane in the last thirty years. The proposed mega-casino resort will have a Las Vegas theme to it and feature 2,500 apartments, five brand new hotels, many top restaurants, public spaces and one huge gaming floor.
Echo Entertainment has also committed to re-locating its headquarters from Sydney to Brisbane along with three hundred jobs. The company will collaborate with its Hong-Kong based business partners Far East Consortium and Chow Tai Fook to complete this mega-project which will be known as the Destination Brisbane consortium.
The Queensland government decided to rule in favor of Echo Entertainment because the company had put forward a better plan in creating and utilizing public spaces and also was in a position to start work immediately on the Destination Brisbane consortium. The government expects the consortium to be a huge tourist attraction and to also generate significant sums of revenue for the state.
In a statement, Queensland Premier Annastacia Palaszczuk said
This development will transform Brisbane's CBD. Construction means thousands of jobs. Some 3000 during construction and 8000 ongoing jobs. We are very excited about this proposal and what it means for Brisbane – making it a premium tourist destination.
By securing the rights to build this mega-casino resort, Echo Entertainment will now be able to dominate the gambling industry in Brisbane. Echo Entertainment CEO Matt Bekier believes that the Brisbane consortium will be able to compete with the best casinos in Las Vegas and Macau. Bekier also plans on using promotions that will attract high stake gamblers from Asia that will help the consortium make a lot of money.
Crown Resorts were disappointed at not being awarded the Brisbane contract but the company's shareholders might be able to breathe a sigh of relief as Crown is already in the process of constructing casinos in Macau and Las Vegas and a new casino in Brisbane would have put a huge financial burden on the company.